1987: Sinclair QL, QL står i korthet för Quantum Leap och med en Motorola 68008, 128kb minne som gick att bygga ut till 640kb, LAN anslutning, två inbyggda ZX-kassettanslutningar samt ett inbyggt multitaskande operativsystem vid namn QDOS verkade maskinen avancerad. Tyvärr så skeppades Sinclair QL fem månader för sent och var buggig som få och det dömde maskinen till att floppa.
The QL in the name was short for quantum leap, and with a Motorola 68008, 128KB of memory (expandable to 640KB), LAN ports, two built-in ZX Microdrive tape cartridges, and a built-in multi-tasking OS named QDOS, it certainly seemed advance. Unfortunately, the Sinclair QL shipped five months late and was buggy enough to doom it to failure…FOREVER.
1985: Commodore 128, om du kan din Commodorehistoria så var du antagligen upphetsad av C128 när den kom med sina 128kb minne, 80 kolumners skärm och två dedicerade processorer; en 2 mhz 8502 och en Zilog Z80 (som inte fungerade i tandem). Räddningen var att den var bakåtkompatibel och gick att köra i C64 läge. Kort därefter kom Amiga 500 och räddade oss.
If you're a way-back Commodore geek, you were probably excited about the Commodore 128. It sported 128KB of memory, an 80-column display, and two dedicated processors—a 2 MHz 8502 and a Zilog Z80. (They didn't work in tandem.) A dedicated C64 mode ensured 100% compatibility. Ultimately, however, the masses didn't want a low-cost, business-oriented machine. We wanted games, awesome music, and great graphics. We wanted the Amiga.
1983: Coleco Adam, Adam släpptes lagom till julen 1983 och var från början som besatt av problem; defekta kassettstationer, en elektromagnetisk strömspik vid uppstart som var kapabel att radera de flesta kassetter och disketter som glömts kvar i datorn och en PSU som var belägen i printern (!). Men på uppsidan så kunde man spela Colecovisionspel på den, oturligt nog kunde man inte göra mycket mer. Returer av defekta maskiner från missnöjda kunder dödade företaget och även med en nyare Adam som kostande mindre kunde kompensera för den floppen.
Released in time for the holidays in 1983, the Adam was plagued with issues. Defective tape drives, an electromagnetic surge on startup that was capable of nullifying tapes or discs left in the system, and a power supply that was located in the printer. Hey, at least it played Colecovision games. Unfortunately, it didn't do much else. Returns killed the company, and even a newer Adam that cost less and offered a $500 scholarship for kids couldn't compensate.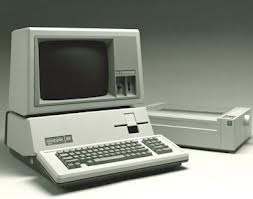 1980: Apple III, var i grunden en Apple II designad för affärsvärlden och drevs av en 8-bit 1.8 mhz SynterTek 6502A processor. Den hade även 16 färgers högupplöst grafik, en 80 kolumners skärm samt både versaler OCH gemener samt ett numeriskt tangentbord. Att den kostade runt 5-7000 dollar gjorde den grovt överprisad och grymt impopulär.
It was essentially an Apple II designed for the business crowd, and was powered by an 8-bit 1.8MHz SynterTek 6502A processor. It also had 16-color high-res graphics, an 80-column display with upper AND lowercase characters, and a numeric keypad. All of this cost between $5,000 to $7,000, making it outrageously expensive and wildly unpopular.