Rob Hubbard, född 1955 i Kingston upon Hull, England, räknas som en av de främsta musikerna inom spelmusik till bland annat Commodore 64.
Rob är känd för att tänja på SID-chippets gränser och före 1985 var spelmusik ofta monoton och använde sig av rena vågformer men i och med spelet Monty on the Run (1985, Gremlin Graphics) med revolutionerande musik från Rob Hubbard ändrades detta och spelmusiken blev mer komplex och Rob blev en inspiration för andra spelmusiker.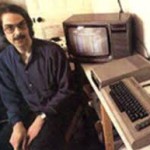 Rob har gjort eller medverkat på många spel, bland annat: Delta, Commando, Monty on the Run, International Karate, Skate or Die och Populus. Ibland ensam, ibland med andra musiker som t.ex. Ben Daglish.
Här följer några YouTube-klipp med Rob Hubbard och hans spelmusik.